Greetings!!! Alison here. It is officially my favorite month of the year!
Although I make a lot of Halloween projects that are on the cuter side, I definitely prefer dark, gothic, and eerie. And I love using vampires. I am a self-proclaimed vampire fanatic, so using a cool vamp for October 1st is quite fitting. I chose to use the gal from
Sassy & Crafty's
Sassy Girls- Spooky
stamp set.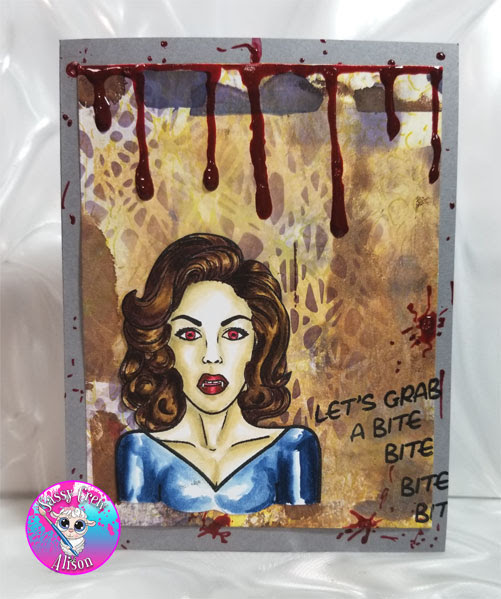 I colored her with my Zig Clean Color Markers in a very painterly way, which was a lot of fun. I left lots of white space and kept it all super brushy. I needed a cool background, so I dug though my ever-growing pile of monoprints, and found this one that I had used Distress Oxides and alcohol ink on. I also used Sassy & Crafty's
Web stencil
, which is one of my new favorites.
I love how grungy this monoprint is, especially given how pretty the vampire is. To add some more of the eerie factor I was going for, I pulled out one of my most favorite products to use at this time of year. Imagine's
irRESISTables Pico Embellisher in Love Letter
. It is the most perfect shade and consistency to represent blood. I dripped it down the top of my monoprint, and I added a few splatters to the perimeter of the card. I love the effect so much.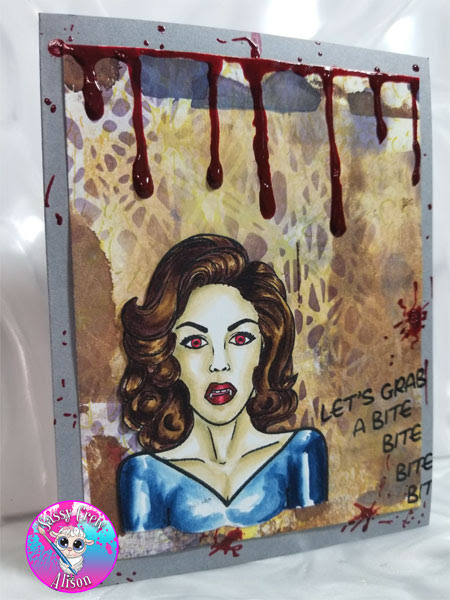 The last thing I did was add my sentiment, also from the Sassy Girls- Spooky set. I stamped it in a bit of a messy, deranged way, having the "bite" fall off the card until it only said "bit." As if... she's succeeded.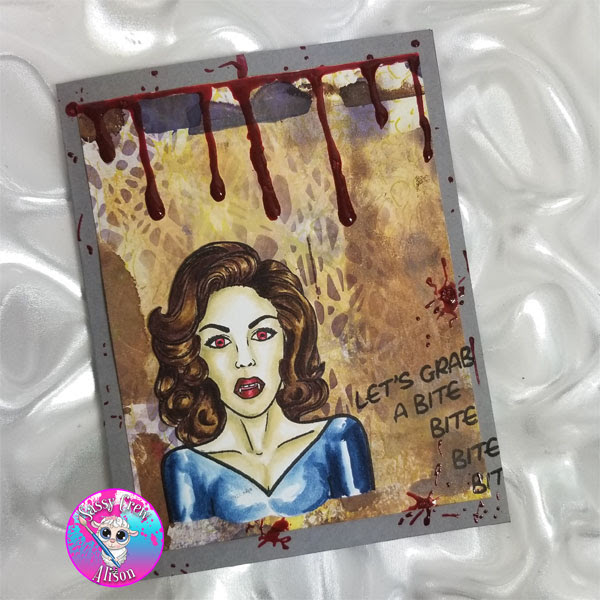 I have to admit, I really enjoy making cute or pretty things. I do. But making projects with an edge, or a bit of a fear factor? I
love
making things like that. So I am thrilled it's finally October and it's a little bit more "normal" to see things like this. Yeah, you'll probably see some cute Halloween stuff from me, and I will be so happy making them and sharing them with you. But stuff like what I've got here today? That's my favorite.
 For more of my creations, please visit my blog,
Alison Heikkila Designs
. Thanks so much for stopping by. Have a spooktacular day!